---
Today is
Cyber
Monday
. A lot of folks are going to be glued to their computer scouring the internet for gifts and deals for folks, not knowing what size or color to get using only a small image to go by. Why go through this hassle when we are matching any online ad for any item we have in stock at the shop. That's right you bring in any ad from a credible online source and show it to one of the MSL Crew members and we will match it without having to deal with the hassle or headache of shipping and returns. Not only that but we will also gift wrap any item for free so there is no excuse to not shop locally this
Cyber
Monday
at
Mountain
Sports
Ltd
.
---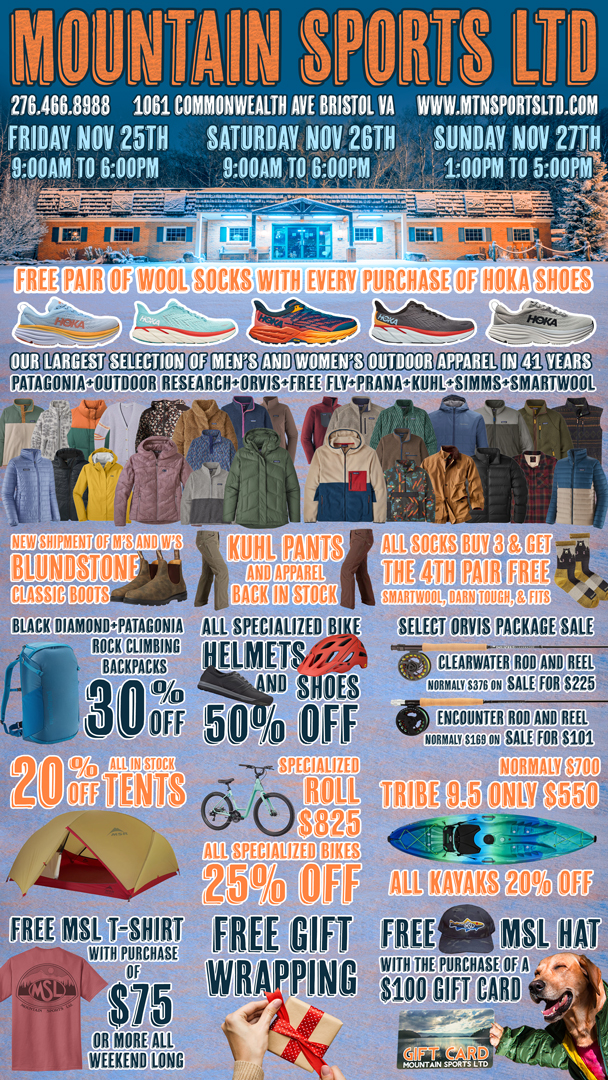 Can you believe it's almost Christmas?
Us either so we hope you will come shop local during the Holidays at Mountain Sports Ltd.
---
Come one and come all to the 9TH ANNUAL GRAYSON HIGHLANDS BOULDERING AND STEWARDSHIP WEEKEND May 28th and 29th! The Grayson season is upon us and what better way to kick it off than spending a weekend with other fellow climbers and giving back to the land by doing the good work at one of Virginia's best state parks! Of course we will also find some time to do some bouldering as well, including some fantastic night climbing at the Picnic Area boulders as this is where we will be able to camp Saturday Night. We hope you will come join us and if you have any further questions, just give the folks at Central Appalachian Climbers Coalition
a shout!
---
One Day Only Super Bowl Sale
Time to kick off a one day only SUPER SALE at MSL. We will be marking select Winter 2021 Apparel HALF OFF for the first time this year and hope you don't let someone intercept that jacket you have had your eyes on all winter long. In other words don't get a delay of game by showing up late or missing the action altogether as we expect lots of folks to show up early. Kick off is at 1:00pm and the final whistle will blow at 5:00pm. So don't forget the route you need to run to end up in the endzone at MSL. As always we thank you so much for supporting team Mountain Sports Ltd and we hope to see you Super Bowl Sunday!
---
The Vancouver International Mountain Film Festival is coming to Bristol!!!
The Vancouver International Mountain Film Festival is coming to Bristol and we can't wait for you to join us for a night of celebrating the outdoors. We are thrilled to be apart of this outdoor film festival that is taking place at the newly renovated Cameo Theatre. This event takes place on Saturday March 5th with doors opening at 6:00pm with the films beginning at 7:00pm. Follow the link below for more info as well as to buy tickets!
Click To Learn More
---
NEW MSL x Specialized Bike Jerseys
It's been a long time coming and it sure has been worth the wait, because the new MSL Bike Jerseys look so good! We teamed up with the folks over at Specialized to design a custom jersey that we really love and that represents the shop! We also decided to go with multiple styles such as riding tees, long sleeve shirts, road/mtn jerseys, as well as shorts to complete the kit. Women specific jerseys and bottoms are also available so be sure to swing by the shop and get fitted and kitted for your next ride!
---
Happy NEW YEARS EVE!!!
We will be closing at 4pm today and all day tomorrow so we can ring in this New Year the right way! Bristol y'all stay beautiful and keep being awesome, we will see you all in 2022!
---
Less than a week until Christmas! Whether you haven't even started on finding the right gifts for everyone on your list or you have just a couple special people remaining, come shop with us Mountain Sports Ltd. Let us help you find what you need. Thank you to ALL of you that have made MSL your preferred Christmas shopping place and continue to support your local Bristol outdoor store.
We will be open from 9am till 8pm Monday -Thursday and 9am till 3pm on Christmas Eve. Once again thanks for the overwhelming support this year. We hope to see you this week to let us help you finish up your Christmas list.
---